(MO) Fallen Heroes VII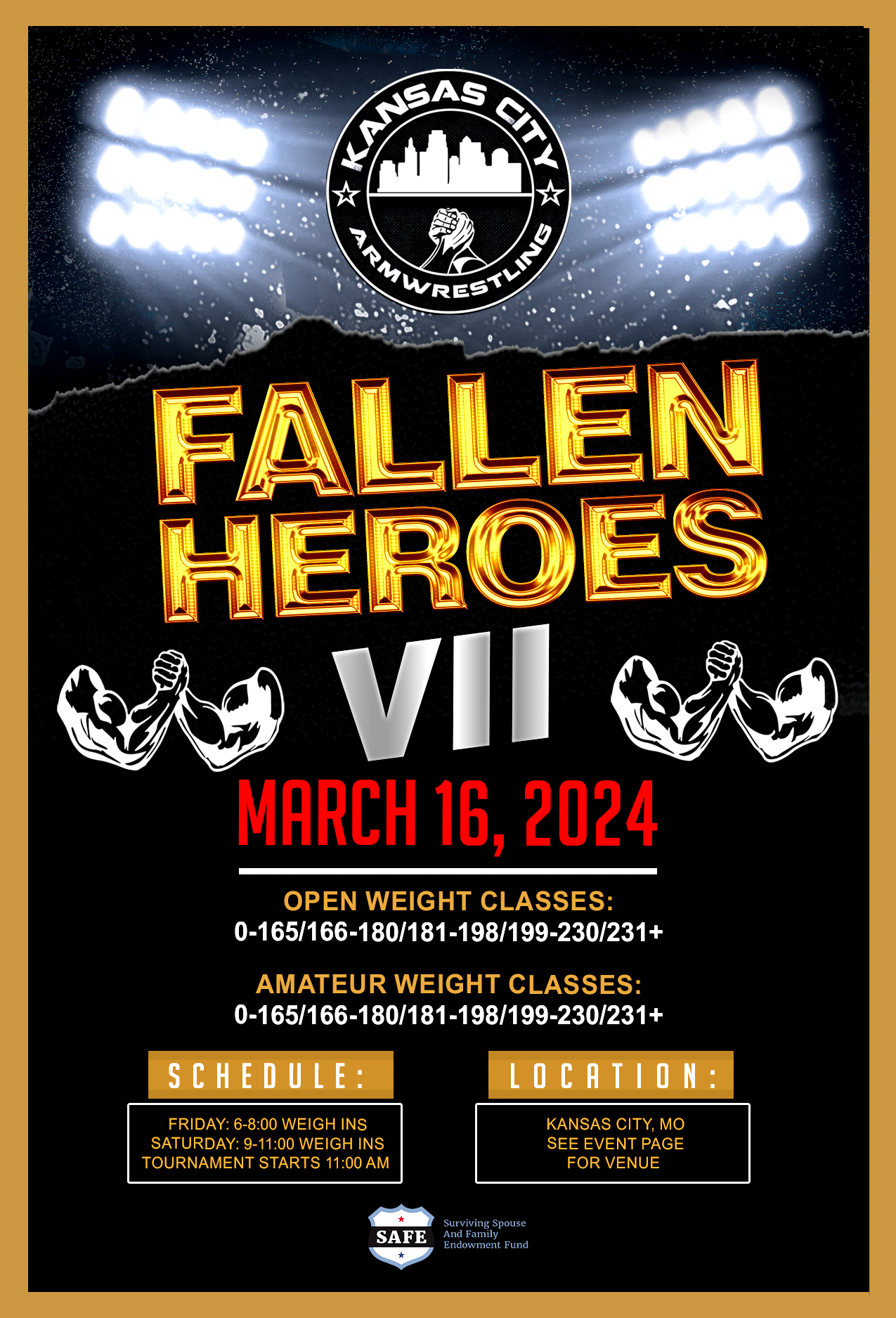 We hope to see everyone for another year of armwrestling and raising money for an incredible cause! All proceeds go to the SAFE organization, which donates $25k to first responder's families that die in the line of duty, plus multiple other incredibly generous methods of help for these families.
Tentative Tournament Schedule:
Friday:
Weigh ins – 6:00 pm-8:00 pm
Saturday:
Weigh ins and Registration – 9:00 am-11:00 am
Super Matches – 10:30 am – 12:00 pm
Tournament 12:00 pm – 6:00 pm
Finals – 6:00 pm – 7:00 pm
Open Weight Classes:
0-155
156-165
166-180
181-200
201-230
231+
Amateur Weight Classes:
0-165
166-200
201-230
231+
Kids classes:
9 and under, 10-13, and 14-18
Masters Classes (45+):
200 and under
200+
Women's Classes: TBD
ENTRIES:
Open – $35 per arm
Amateur – $30 per arm
Kids – $15 per arm
AMATEUR PULLER NOTE:
If you pull amateur, you can pull an open class for $25. So, if you pull 2 amateur classes, you can pull 2 open classes in addition to the amateur classes for $50.
This will be a very tough tournament. If you are a borderline open puller, meaning you don't win every local event you enter, you are strongly encouraged to enter an amateur class. If you don't want to enter your weight at amateur, enter a higher weight class and get some extra work.
RULES:
We will be using a WAL set up with a "READY GO", as well as IFA rules. So, no running fouls, slips in a losing position lose, elbow fouls in a losing position lose, and so on. Super matches will be deciding their own rules