(AZ) Battle of the Brave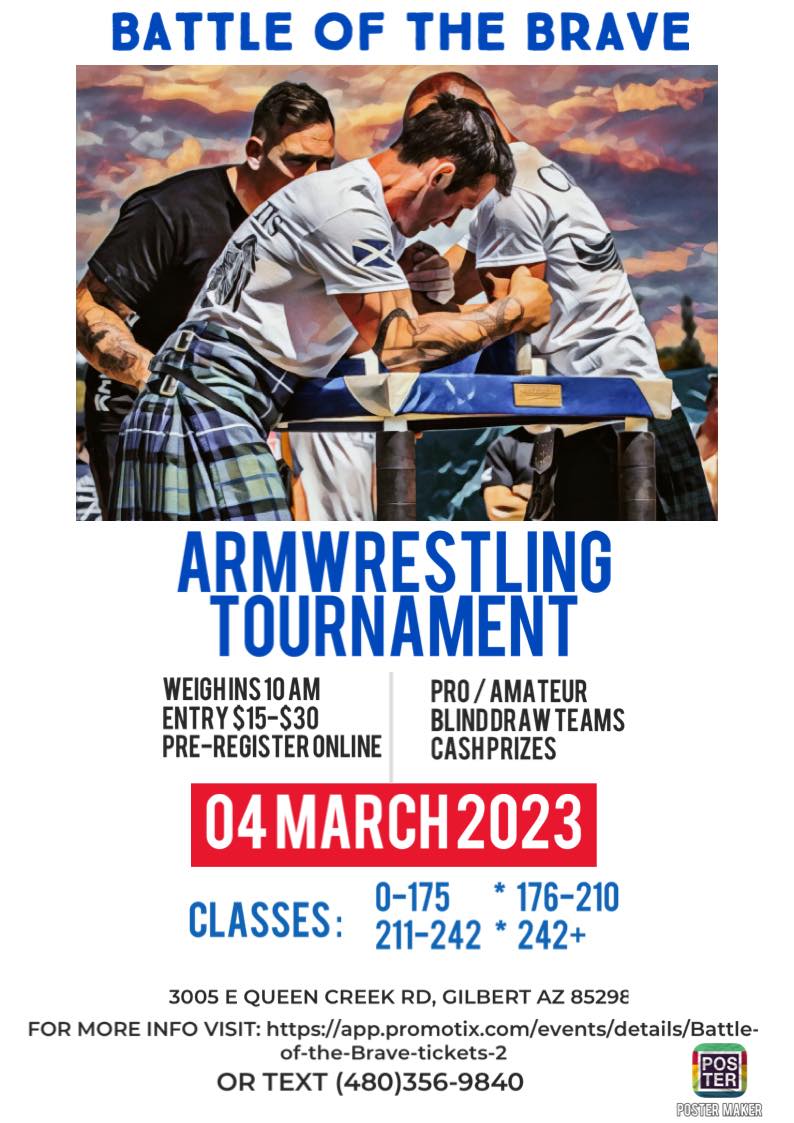 A Highland Games is a two day long celebration of Scottish heritage, combining aspects of sport and culture. Think of a county fair and a track meet/ Armwrestling tournament all rolled into one.
The "games" part consists of men – and women – competing in the traditional Scottish "heavy athletics" events: throwing various weights, stones, and the caber (a pole) for distance, height or accuracy. New this year is ARMWRESTLING .
Multiple events occur all throughout the day with the Armwrestling event starting at 1:00 pm.
Celtic music performers are featured on stage. Pipe and Drum bands perform as entertainment, in competition, and as accompaniment to Highland dancing – both performances and dance competition. All the participating pipe bands combine in parade to open and close the event, and to "Call the Clans".
Scottish Culture is celebrated with Clan displays & educational exhibits along with Celtic food and merchandise sales. And not to forget the drink – whisky, beer and more!
The Armwrestling Format will be as follows;
KILTS ENCOURAGED
Register online at with the provided link. (You must use the online registration if you want to be part of the blind draw for prizes) $15 for one arm $25 for two online. $20 for one arm and $30 for two arms the day of the event ***cash only day of***
03/04/23
10:00 a.m. – 12:00 p.m. weigh ins and last minute registration
1:00 p.m. Brackets announced and competitor's meeting.
1:15 p.m. the Tournament will begin.
4:00 p.m. Championships matches.
5:00 p.m. Awards Ceremony.
5:30 p.m. After Party
Weight Classes for both Mens Pro/Amateur
0-175
176-210
210-242
242+
Women Pro/Amateur
(This class is always dependent on numbers of participants and the brackets will be split according)
0-180
180+
First Timers ( Never competed in an Armwrestling event before)
0-200
209+
Tournament will be a standard double elimination. Awards for the winners of each bracket with a twist. For those whom register online, we will be creating 4-5 blind draw teams for overall cash & prizes.
How it will work;
The competitors will be divided into categories of weight & skill. Each name being placed in a bucket that's is according to their skill/weight. A blind draw will occur pulling one name from each category until 4-5 teams are evenly formed.
From that point, each win and where each player places in their bracket will be worth a set amount of points. All points will be tallied at the end and the team with the most points will win a cash pot.
We are looking for local businesses to sponsor each team & get involved with the festivities. If you would be interested in being a part of that or know someone whom would, please reach out.